COOLIT2600 TESTIMONIALS
Last Tuesday the outside temperature was above 90% and the air conditioning unit in the space we lease stopped working. The temperature was 89% in our office by 1PM and this was the day we were scheduled to host a Chamber mixer. We called AirPac; they arrived at our office within a couple of hours to assess our situation and hooked us up with portable air. This response was immediate and a painless set-up for us. Thank you, thank you and thank you for your customer service; may it be contagious.
C. Rathel
MarketPlace Realty
I wanted to take a moment to thank everyone at AirPac for coming to our rescue last week. Our restaurant air conditioning system went down and your company was a lifesaver for our business. We could not have survived a weekend in the August heat without your prompt delivery of two portable air conditioners. We thank you for being there for us on such short notice. I have recommended you to everyone I know.
R. Meatyard
Tall Timbers Development Company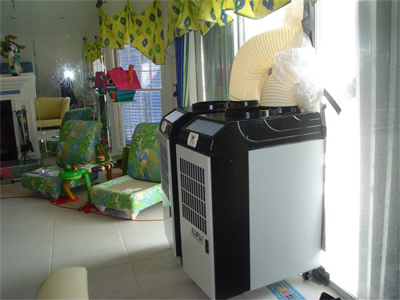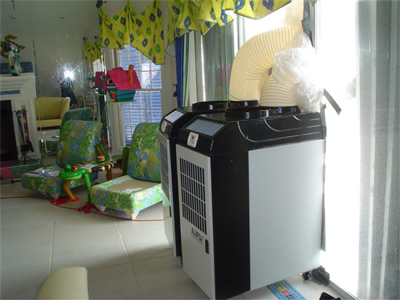 What a great product! You saved our house from mold and our furniture from mildew! In a time of desperation, your thoughtfulness and effort to help us is so much appreciated. We now have power at the office and home – a lot of work remains, but it is worth it. Thank you.
S. Carlton
Pointe South Realty
Our lab is housed in an old building that has outdated infrastructure – it is freezing in winter and sweltering in summer. Because the microbe responsible for Sudden Oak Death grows best at low temperatures, around 60 degrees F we needed to find an AC unit that could cool a 500 square foot room better than a window box could. When our AirPac unit showed up, we laughed because we thought it was so HUGE, but it has done its job well and kept us operating normally.
A. Smith
University of Berkeley
COOLIT3300 TESTIMONIAL
Our IBM TotalStorage Solutions Center – (TSSC) is populated with $1.5M worth of IBM's latest Servers and Storage systems. Our TSSC is located in a converted office environment and does not have a raised floor or datacenter type cooling capacity. As we added new, larger pieces of equipment to our center, the temperature began to rise. The alternative of only running some of the equipment at any one time was not acceptable. We solicited several quotes for permanent installation of air conditioner units, but they were all too expensive. We did a search on the web, and located AirPac, and ordered a COOLIT3300. Installation was simple and the results are outstanding. The unit runs 24 hours a day, 7 days a week, and has dropped the temperature in the room by approximately 10 degrees F, which was exactly what we needed.
JB Burke
Jeskell, Inc
COOLIT2600 AND COOLIT3300 TESTIMONIAL
I run a small server room and I am a repeat customer of AirPac. I purchased two Coolit1000s in 1999 that are still running strong. I purchased a Coolit2600 in June 2002 that is phenomenal. It took 15 minutes to set up and hasn't been shut-off since. The air is as cold today as it was the first day of operation. My cooling needs keep increasing so now I'm back to purchase a Coolit3300. My sales rep was friendly and knowledgeable. It took 15 minutes to place my order and 24 hours later it was on a truck heading my way. I couldn't ask for more. Thank you AirPac.
S. Jumper
eRealty.com
COOLIT2600 AND COOLIT3300 TESTIMONIALS FROM NATIONAL ACCOUNTS
(WAWA and First Service Networks use us to provide rental A/C to their Corporate Accounts they service or facilities they own)
Just wanted to drop a note to thank you for another great season of service. You have more than met all of our needs and expectations.
J. Vari
WAWA Food Markets
I just wanted to send a note to let you know how impressed I was with the level of service and professionalism exhibited by Sean and Tony. They were very pleasant and went above and beyond what was expected. We have had a hard time finding courteous contractors who have really taken the extra effort to make sure that services were completed effectively and efficiently. I am very, very happy with your service.
D. Vargas
First Service Networks
Art, units received and working. Thank you for the outstanding service.
J. Hergenroeder
Department of Public Safety
PORTAPAC TESTIMONIAL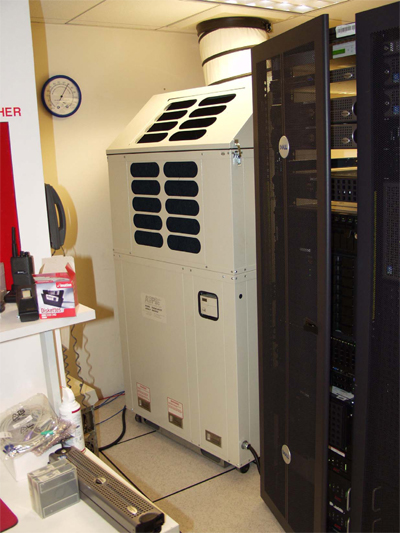 For the past two years we have been able to rest assured that when our primary cooling system is down for maintenance or an emergency our AirPac portable air conditioner, the PortaPac 60 will kick right in and perform as designed. We've had dozens of occasions when the PortaPac has come through for us each and every time saving us from experiencing any downtime. The PortaPac does a great job and the AirPac staff is professional and responsive. I would not hesitate to count on AirPac to solve any of my future cooling problems.
J. Hales
National Association of Broadcasters