Imagine having to convey a creative idea in a sentence! Communicating a special event idea through Twitter in 140 characters or less challenges the creativity and communication skills of professionals in the event planning industry. Describing a tent, color scheme, or an entire event suddenly becomes a daunting task when it must be done in so few words.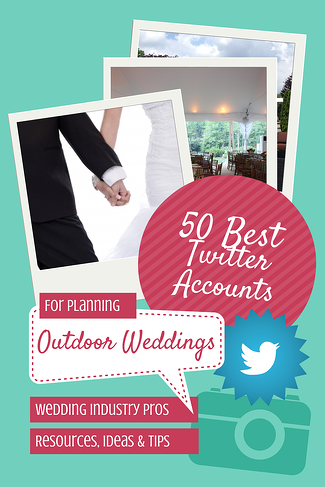 Composing effective tweets for your business is important, and the best way to learn is by example. The key is to find accounts that have perfected the art of short, sweet, and to-the-point tweets.
We've compiled a list of the top 50 Twitter accounts (including links to the accounts -- woohoo, easy for you!) for outdoor wedding planning to inspire more effective tweets about new wedding trends and ideas. The list includes professionals in every category from DIY themes to air conditioned tents for outdoor weddings and offers insight, helpful tips and news from all aspects of the industry.
Take a look at this list and you're sure to find a few new Twitter accounts to follow and connect with. Just click on the hyperlinked Twitter handle and a new window will open where you can find out more about the company and choose to follow.
Following accounts that create informative and engaging tweets about the wedding industry also benefits you as your news feed becomes full of useful content for your followers and hopefully, new clients! The wedding industry is a very visual community so inserting links into your tweets will give your followers a more in-depth look at your idea or event and is also a great way to generate traffic to your website.
So many great resources are available with just a click. Contact us if you are curious about climate control for your outdoor wedding.