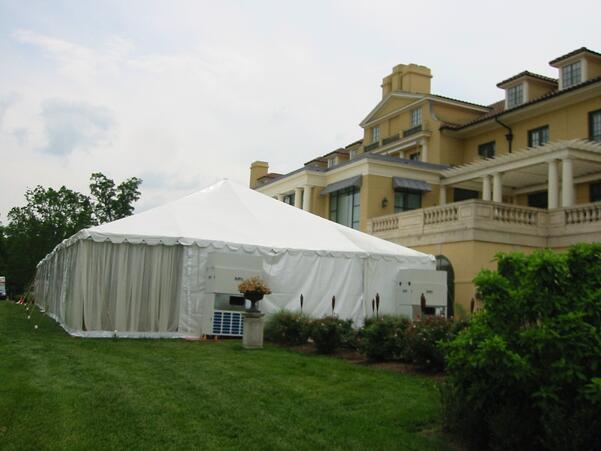 All event planners and rental companies know In Tents Magazine is the go-to source for tented events, "delivering the total tent experience." In their August 2012 issue, Holly O'Dell's article, "Chill Out with the Right Cooling System," describes two methods for tent air conditioning. O'dell interviewed tent rental companies and tent air conditioning pros and outlines what you need to consider for a successful, air conditioned event:
Types of cooling available
- Vertical air conditioners flush mounted into the tent sidewall
- Cold air delivered to the tent through fabric ductwork system
Air conditioner placement considerations
Tips for keeping guests comfortable
The split comfort control system is the newest method for controlling the tented environment. This system provides four functions -- air conditioning, heating, ventilation and dehumidification -- all from the same unit! And since the system is split there is no need to alter the tent sidewalls or run duct to the tent for distribution. The split comfort control system is perfect for air conditioning a tent in a small back yard or Audi's amazing 2-story temporary structure at Road Atlanta.
Communication is key. It doesn't matter if the special event is a corporate function, a charity fundraiser, sporting event or a wedding. Let the rental professional and tent air conditioning pros know what's going to happen at the event so they can recommend a tent air conditioning solution that will work best.
It may seem trivial when the event planner nails down details about the position of the tent, the number of entrance/exit doors, the catering access, the additional tent lighting, the number of people at the event.... but that's their job! They may even want to know if you'll just have background music or if people will be jamming out to the latest DJ dance craze. All these event details make a difference in the cooling load and the type of air conditioners that will work best for each event.

So let the planner be thorough and complete because all the nitty gritty details factor into the cooling equation.
Be sure to check out O'Dell's In Tents article on tent air conditioning.

When you need to cool a special event be ready to ask lots of questions and provide lots of information so you get the tent air conditioning solution that's best suited for your event.