One of the first questions asked when an event planner, tent rental company or bride calls to research tent cooling is, "How much does tent air conditioning cost?"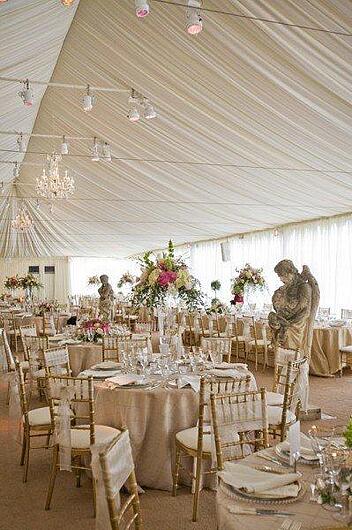 The first thing we need to do is determine what type of tent air conditioner will work best for your event. That's not always easy. But let's start at the beginning. Be sure to check out what's involved in choosing a tent air conditioning solution.
You'll first need to select your venue and need to know what type of tent you will be using for your event. An experienced tent rental company can help you select a tent that will work with the venue. And that in itself can be an involved process so be sure to select a vendor like our friends at Event Central who have put together a quick list of what's involved in conducting a site survey for your outdoor event.
When it comes to tent air conditioning systems, we're not a one-size-fits-all kind of place. Rather than give you pricing from the start, we ask a lot of questions about the tent and event so we can determine if we have a solution that will be a good match for your needs. Figuring out how much cooling you need is as much an art form as it is a science.
We're not afraid to let you know when there's a better solution or vendor out there that will provide a solution we can't. Heck, sometimes air conditioning isn't even the best solution; you may be able to get by renting fans or evaporative coolers which are far less expensive than air conditioners! Let's assume you've decided to air condition your outdoor tented event.
Here are two easy methods to estimate how much tent air conditioning will cost:
Price per ton of air conditioning:
A ton of air conditioning = 12,000 BTU. Generally, tented events will require one ton of air conditioning for every 100 - 150 square feet. In this example, a 40 x 60 tent would cost $2400 - $3600 for the air conditioning units only.

Price per square foot:
You can also estimate the cost of the air conditioning units based on the square footage of the tent. Use $1.00 to $1.50 per square foot. So for the same 40 x 60 tent you can see you'd be looking at rental rates for the air conditioning units only at $2400 - $3600.

All the fine print mumbo-jumbo aside, the truth is the rental rates for tent air conditioners are standard but the PRICE for cooling the tent is not. And that's because there are a lot of variables that figure into the entire price for the event air conditioning. Pesky details like delivery and pick-up fees, load-in and load-out charges, the cost for an on-site, day of event technician, electrical or generator power, etc. -- these additional items make up the entire cost for air conditioning an event. As you know, there's no "do over" for a special event! Partner with a air conditioning rental company specializing in event cooling. Make sure your air conditioning estimate includes the rental rate of the air conditioners and all the additional work involved to guarantee your event is cool and comfortable for you and your guests!