2021 was a whirlwind year for weddings and events. Between deciphering local and state laws regarding masks and gathering sizes to venues and vendors being fully booked with rescheduled weddings from 2020, 2021 was hectic! Some venues even offered weekday weddings to accommodate the record influx of inquiries and reschedulings. Last year's wedding trends reflected the challenging times we were in regarding COVID. Individual appetizers, intimate weddings, and curated welcome boxes were on the list of 2021 top wedding trends. This year, we're seeing couples get brighter, bolder, and bigger when it comes to celebrating their special day.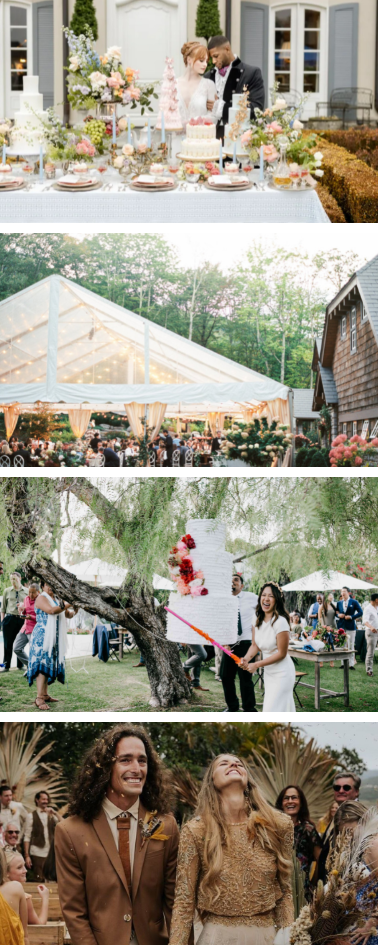 1. Bridgerton Inspired
This opulent TV show really made its mark! Bridgerton themed weddings are on the rise this year, as well as other themes like Old Hollywood, disco, and summer camp.
2. Anni-ceptions
Anniversary receptions! Many couples decided to keep their original date in 2021 and wed now, party later. Depending on your state, events may have still been very limited in 2021 because of COVID. Big celebrations were hard to host safely and international travel wasn't starting up just yet. This year, travel and event restrictions have been largely lifted so people are ready to celebrate their love in a big way with anni-ceptions.
3. Backyard Weddings
With so many venues fully booked well into 2023, backyard weddings are popular for 2022. Couples don't want to wait and they want to celebrate with all their friends and family so holding their wedding and reception in their backyard is a solid and practical idea. Just make sure you think about all the extras you might need if you are hosting a large wedding on your property.
4. Destination Elopements
International travel is a reality again! Couples that enjoy traveling are booking elopements and very small, intimate destination weddings abroad. After being stuck at home for almost two years, couples are ready to live life to the fullest and celebrate their big day the way they want to and where they want to.
5. Unique Entertainment
A band or a DJ simply won't cut it for many couples this year. They want something to wow their guests like aerial dancers, piñatas, even drag queen entertainment. "You'll see couples turning their receptions in adult playgrounds" says Helen Pye of Hitched.
6. Bold Color Schemes
Boldness is a common theme for 2022 weddings and it extends to the color palettes. Couples want exciting colors for their big day and this includes bright punchy colors like yellow and purple as well as earthy tones like rust, evergreen, and sage green.
7. Art-Inspired Design
Art galleries and art works are serving as big sources of inspiration for weddings in 2022. Couples want that refined, modern, artsy look and they want to give their guests a visually stimulating and immersive experience.
8. Non-Traditional Fashion Choices
As many couples are celebrating their wedding after the fact, the traditional garb is seen as unnecessary. Wedding dress separates, jumpsuits, and pantsuits are popular alternatives to the traditional dress and veil combination while suits in different fabrics and colors are taking the place of the usual black tux or suit. Statement pieces like leather jackets, boots, and unique jewelry are ways couples are adding a personal touch to their wedding day outfit.
9. Long Wedding Weekends
People are excited to party again and they want to go all out! Curated wedding weekends are popular this year with welcome parties, rehearsal dinners, daytime activities like tennis or hiking, and send-off brunches.
10. Sustainability
Live florals instead of cut floral centerpieces and less stuff in the welcome bags are ways that we are seeing couples be more sustainable this year. Couples are focusing on giving their guests an experience rather than a packed welcome bag that might not even make it into their guests' luggage.
These 10 trends really give us a lot to think about and give us a lot to be excited about. We can't wait to see what kind of themes, color palettes, and unique entertainment experiences 2022 couples are going to wow us with. If you need air conditioning or heating for your big celebration, you know to contact us!