Almost all businesses do some type of recycling. Maybe it's the foil and food cans in the lunch room trash or perhaps the stack of paper by the printer that gets recycled because you printed an extra too many sheets. And of course, the ink cartridges, soda cans, cardboard boxes, etc.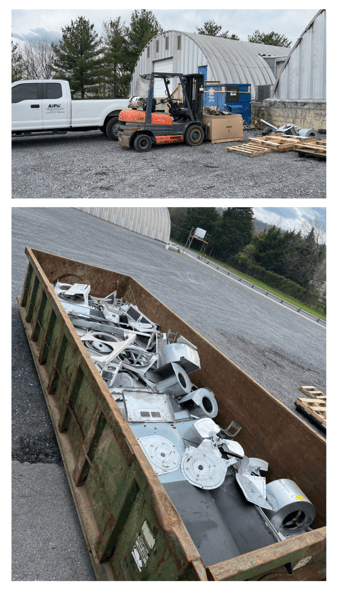 We're not just talking about the refrigerant "recycling" either because the new refrigerant and reclaiming is required by law. We're talking about really recycling.
AirPac is actually a manufacturer of air conditioning equipment as well as a rental company. After about 10 to 12 years the air conditioning units have lived their usefulness and must be retired. Many of these older units may contain refrigerant that is simply not as cost effective to maintain or efficient as the newer blends. Most rental companies either sell their "used" equipment or simply trash it as it is easier to get the latest and greatest with all the advances in materials, electronics, etc.
As a manufacturer, AirPac knows that about 90% of the HVAC unit can be recycled. For example:
Refrigerant gas is 100% reclaimed and used to maintain the existing units in the fleet.
Copper used in coils and wires is 100% recycled.
Brass used in the refrigeration fittings is 100% recycled.
Aluminum is the most recycled metal on the planet and we use it in the cabinet for panels. It is 100% recycled. Aluminum also saves on transportation costs as it is lighter in weight than other metals.
Steel is used in the cabinet for structural components. We recycle all we can, but steel isn't as easy to process as the copper, brass, and aluminum.
Sustainability is important to us as a company, it's important to our employees, and we know it's important to you, too. If you have any additional questions about how we reduce, reuse, and recycle, contact us.