Designed to be portable so that they can be moved wherever they're needed most, renting one of our portable air conditioners can be a game changer. Understanding what the different uses are for portable cooling units can allow you to make the decision of whether or not you would benefit from renting one of them for an upcoming event or project that you have in mind.
Construction or Remodeling Projects
Whether you have the enormous project of remodeling your office or building a warehouse, it's likely that your workers will become overheated depending on the season. Instead of sweltering in the heat while performing a variety of work around the site, it could be beneficial to rent a portable air conditioning unit and have a tent to cool off in so that your crew can continue to be productive as the weather gets warmer.
Ideal for Any Event
Planning a birthday party that's going to be held in a tent or barn can become a little more stressful when you discover that it's going to be hot during the party. By renting our portable event air conditioners that can be set up outdoors, you can help keep your guests cool. Our units are very easy to set up and be used outdoors, plus we do all the set up anyway!
Affordable Alternative to Buying
Purchasing a portable air conditioning unit can be quite expensive and may only be used a few times a year, making them susceptible to maintenance problems. Instead of going without one of these units for an upcoming project or event, it's beneficial to look into renting one. Our units available for rent vary in capacity and price, allowing you to choose the portable AC unit that is going to meet your budget and allows you to provide the cool air that is needed for either your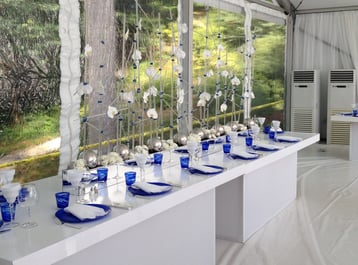 guests or your own personal comfort.