As cold weather approaches, it's a good time to talk about safety and the use of portable electric heaters. No matter the occasion - an outdoor party, a construction project, or a drafty office, a portable electric heater can give you exactly the temperature boost you need. You can do it safely, too. Here are five safety tips to keep in mind.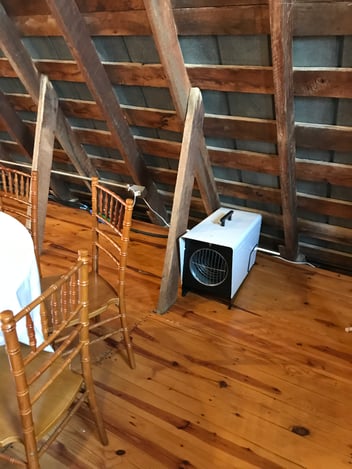 1. Choose a heater with the Underwriter Laboratory (UL) label.
All AirPac heaters are UL listed. UL is a global independent safety science company. Its services include testing, auditing, validating, and certifying companies and products for safety. A product designated as "UL Listed" indicates the product's manufacturer has demonstrated complete compliance with UL safety specifications.
2. Use the proper size heater.
Using a giant capacity heater for a tiny room puts you at risk of overheating and could become a fire hazard. We have the expertise to assess what you need. Also, we have a wide range of portable electric heaters to meet that need: Small, medium, to large, we ensure the right unit for your space.
3. Place the heater carefully.
Your portable heater should sit on a level surface away from heavy foot traffic. Even though AirPac's heaters are electric and not propane, it is still very important to keep a clear area around the heater. Keep flammable materials - like curtains, rugs, papers, and flammable liquids - away from the unit.
4. Plug the unit directly into a wall outlet or generator when possible.
The plug must fit snugly into the outlet. If it does not, or if the outlet or plug becomes very hot, do not use the outlet. If you must use an extension cord, use a heavy duty cord, 14-gauge wire or larger. Never run the power cord under a rug or other surface.
5. Do not leave the unit running unattended.
Turn the heater off before you leave the location - before you leave the construction site, before you leave the party, before you shut down the office.
We want you to be warm, and we want you to be safe! Follow these five guidelines to stay toasty and safe this winter. When you feel a chill, contact AirPac to bring the heat.