The election is over and the holiday season is upon us! With capacity restrictions still in effect in many cities, many businesses are extending business hours and adding tented structures to accommodate social distance guidelines and the holiday rush. The crisp fall weather will turn to cold winter temps and outdoor dining, shopping, and working won't be delightful anymore. Working in cold weather, like hot weather, has its own challenges and health concerns.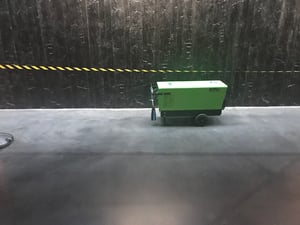 If you have to take on an outdoor maintenance project, you may dread the idea of being out there in the snow and cold. You can bet that anyone you try to hire for the job will be thinking the same thing! While it's possible to get people who are desperate enough to do it, you might have trouble finding high-quality workers if you don't do something about the temperatures. Fortunately, there is a solution to this quandary: portable electric heaters and tents.
By setting up heated tents, you'll take care of the issue of wind rushing through the work area and causing severe wind-chill. You'll also prevent snow from falling on the project and your workers. Finally, tents will help keep the heat from your rented portable heaters where it's supposed to be. Without them, the heat will blow away as fast as it's generated.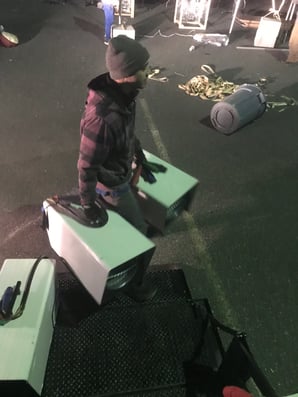 For most outdoor projects, one heater will do the job. If you have a larger area you need to have maintained, you may need to bring in more electric heaters to ensure that everyone is warm enough to work comfortably and safely.
Weather doesn't stop projects, especially commercial and municipal projects. Clogged sewer lines, broken-down parking lot lighting, potholes, and other such issues don't watch the calendar before going on the fritz - and for these problems, waiting until spring is unfeasible. They need to be fixed immediately to prevent further damage.
Whether your tent is for take-out pick-up, holiday shopping, or maintenance projects, make sure that your employees and customers are safe and comfortable with effective, electric heaters. Contact us to heat your tent this winter!