Let's take a look at the SKIDPAC 60, one of our newest air conditioners! This compact and reliable air conditioning unit is perfect for temporary planned and emergency HVAC in commercial and industrial spaces. Just connect power and duct and you're back in business!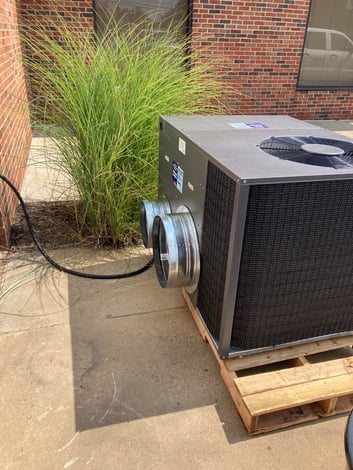 Compact and Reliable
A raised base pan and advanced drain trap design allows water to drain away from the unit. The motor is heavy duty for long lasting reliability and quiet operation. It's relatively small footprint makes it easy to find an installation point.
Can be Placed with a Crane
Our SKIDPAC60 can be easily put in place on the ground level or lifted onto a roof with a crane, which is a big plus if you are in a city.
Easy Set Up
The supply and return duct quickly connect to start cooling the space in minutes. No long, difficult setup process!
If you think our SKIDPAC60 would be of use to your business or industrial space, contact us! If you'd like more information about this model download our SKIDPAC60 Spec Sheet.