Girls dream of summer weddings. Summer brides want a stunning dress, the most picturesque location and get lost in the details of planning the fairytale wedding they've dreamed of for years. If the event is planned for outdoors, consider cooling with air conditioning for the wedding tent.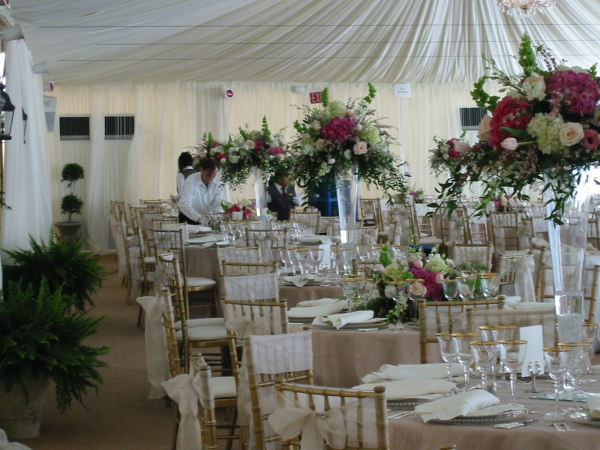 Photo: Wedding Tent by
Virginia Tent Rental
at Keswick Hall
The Bride -- We've all heard of blushing brides but hot, sticky, sweaty brides. Enough said!
The Guests -- Once the party get's going, as long as the food and drink are plentiful and the music is happening, most of the crowd is pretty happy. But what about Grandma, Grandpa and Aunt Ethel? Even if you can't cool the entire tent, think about having an area with spot coolers to keep eldery (and even the cranky) comfy.
The Food -- If the caterer has anything to say about it, I'm sure they'd rather serve food in optimum conditions and temperatures. Extreme temperatures present a problem with presentation and serving the food. Don't forget the cake!
The Flowers -- Most flowers prefer temperatures between 65 and 72 degrees Fahrenheit. Too warm, and unless you have exotic tropicals, the flowers you've paid a pretty penny for will wilt before the event is over.
Here's a sweet infographic to gaze at and share!

Seems proposals are always in fashion, regardless of the time of year or holiday. Wonder how many newly engaged couples will be planning summer weddings!

Have an upcoming summer wedding? Please comment here with your concerns. We'd love to hear from you.