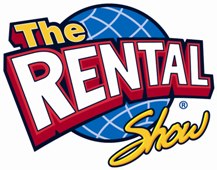 The ARA show -- suitably dubbed THE RENTAL SHOW is just wrapping up in Las Vegas. And what a show it has been!
This is a show like no other. Once a year, the entire rental community converges on a location for a week of seminars, networking, and, of course, a trade show. When I say the entire rental community, I mean every type of rental business. From the mom-and-pop shops to the multi-location mega businesses. I can honestly say, these folks do it right. There is always something for everyone and you come back from the show recharged, refocused, and ready for the new rental year.
Having an industry event in Vegas is like having a birthday party in an amusement park. There is no shortage of things to do. Sadly, I was left at the office to "hold down the fort" this year. The folks at the show rarely call because they are so busy meeting with current customers, learning more about the rental industry we serve and helping potential clients see how adding portable AC units to their rental inventory will boost their bottom line.
Here's our top 10 highlights from ARA in Vegas:
Events & Tents -- Complete learning track for those rental stores that do party rentals.

The annual ARA Golf Open -- personally, the extent of my golf game is putt putt but many LOVE this event.

Keynote address by Leigh Anne Tuohy -- WOW.
She's the real deal! Inspiration + Motivation + Action = Success!

Networking opportunities from dawn till dusk... and beyond. Hey, this IS VEGAS after all!

Never ending buffets. Great for indecisive eaters and those who want to try everything.

Fabulous seminar schedule -- like a never ending buffet for the brain!

Access to industry experts -- talk with all the speakers before and after their presentations.

Non-stop entertainment -- never a shortage of things to do.

Meet with customers and potential clients --the information exchange in these meetings is invaluable.

Trade show sales

-- ARA is one of the only shows we attend where people come to do business. Each year, we add

Rental Partners

to our

Rental Network

.

Did you add portable air conditioners to your rental fleet?
If you weren't able to attend ARA you can still order equipment at the show special price. If you were at ARA and just didn't have time to get back to the booth, it's not too late to order equipment.

Click the Show Special button for discounted prices. We'd love to add you to our Rental Network!
What do you like best about the ARA Show? Comment here and let me know.