The multiple day conferences like ARA's The Rental Show and NFMT Expo are great opportunities to learn about industry developments and meet current and new (hopefully!) clients. But I LOVE the single day, shot-in-the-arm events that are local and focused. Spring Training, hosted by MATRA at Commonwealth Event Company in Richmond, VA was just that -- a great venue to demo AirPac's Temp HVAC and Special Event Cooling units!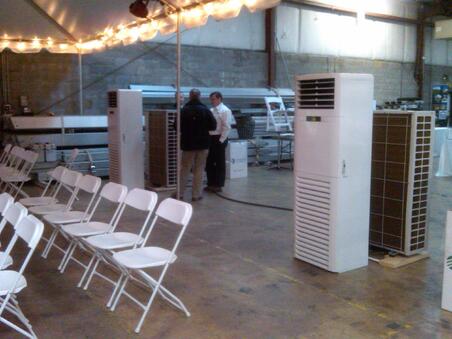 The Spring Training Agenda covered topics of interest to Tent Renters:
Truck Leasing Pros and Cons
Common Insurance Issues and Employee Handbook Creation
Inventory Management Software
Round table Discussions that covered tent permitting, marking utility lines and even the use of Social Media
Marlin Spencer and Art Behnke attended the event and were on hand to demonstrate equipment and answer questions. Here are their take-aways from the MATRA's 1st Spring Training.
Marlin said, "I loved being out of the office for only one day. Plus, since the event was local, I got to meet some vendors and potential customers who may not have traveled up to a larger event. With so many companies operating leaner, it's tough to take too much time away from the office on top of the travel expense required for the multi-day events."
Art enjoyed the casual environment and he said, "It was great to be able to talk casually one-on-one with guys in the tent industry and not have to worry about exhibiting in a show. The information exchange was fantastic."
Let's hope this is the first of many Spring Training events for MATRA! We'll be back next year!
We'd love to help if you need temporary HVAC for your tented events.