Much as I hate to admit it, portable air conditioners can get a bad rap. You can't use a "one size fits all" mentality and spot coolers are not the solution for EVERY air conditioning problem.
My goal with this series -- yes, there will be more to come -- is to expose the most common mistakes when using portable cooling for temporary, supplemental or primary air conditioning. I'm on a one-woman crusade to erradicate ineffective, unsafe and ugly portable air conditioning applications.... one application at a time!
Here's the inaugural PPACA (that's Poor Portable Air Conditioning Application) Post.
This summer, I took my 17 year old daughter to the airport (which shall remain nameless) to put her on a flight to Europe. She's quite independent and very resourceful so I wasn't nervous about her flight or being in Europe with our family friends. I was anxious about her spending hours in the airport alone. We live 90 minutes away from the airport so I wasn't going to leave until her plane took off.
I must have looked pathetic. The helpful United ticketing agent took pity on me and gave me a pass to accompany my daughter past security. As we were walking through the terminal I was complaining about how warm it was. Then I saw it. I honestly couldn't believe this portable air conditioner was in the middle of a crowded international terminal!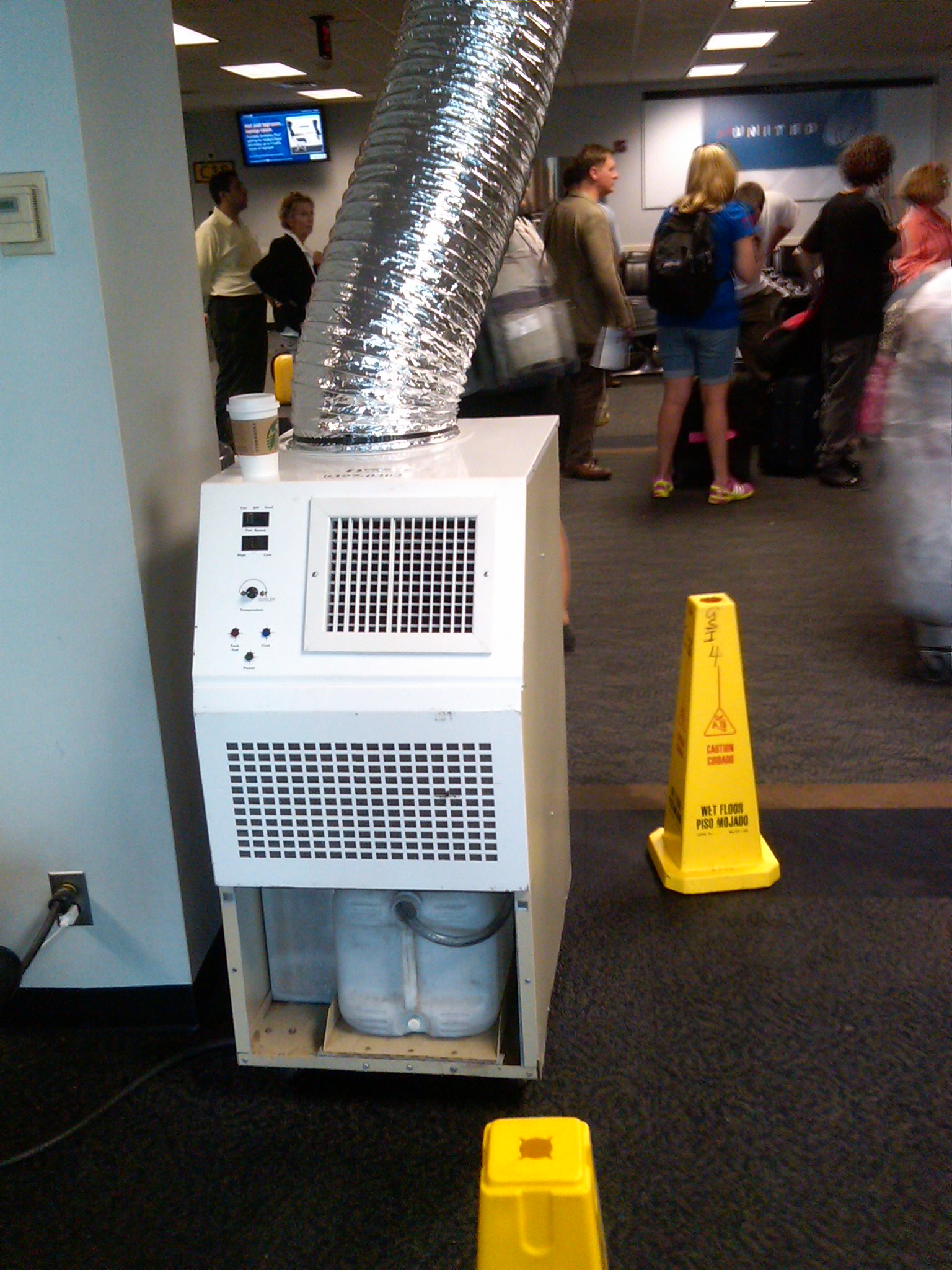 Where do I begin? Here's the WNTD (What Not to Do) list:
The electrical cord should be taped to the floor or at least placed next to the pillar to prevent a tripping hazard.

The condensate storage door is missing allowing any curious child access to several gallons of water.

The yellow caution cones -- guess those are to warn folks of the wet carpet. Likely from the condensate tank that overflowed.

Which brings me to the automatic tank full safety that must not be working otherwise the unit would have shut off to prevent condensate overflow -- check out the "water mark" on the carpet in the photo below.

Not a safety hazard but a pet peeve -- this unit is filthy!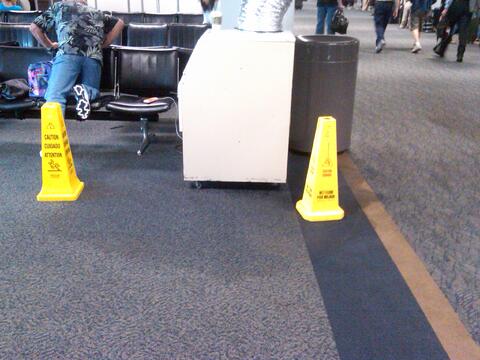 I'm guessing the airport aurhority rented the portable air conditioner since there was a rental company name and serial number on the side -- not shown since they aren't able to defend themselves. Looks as if the rental company needs better quality control. Surely they didn't put a dirty unit in the field with missing parts!
Insist that the equipment delivered is complete with no missing parts or pieces.

If the air conditioner condensate tank overflows, request for the unit to be fixed or replaced.

If your job site is not a construction site, the equipment you rent should not look like it belongs on one!
Not sure about a portable air conditioning application? Post your question or comment here and I'll see if I can help. Let's rid the world of Poor Portable Air Conditioning Applications!