Hurricane Irene took her toll on the East Coast. From Florida all the way up to Vermont, the days of rain and wind took their toll on residents and businesses. What now? Do you have a Disaster Recovery Plan? Does your business Disaster Recovery Plan look like the cartoon below? ;-) Emergency cooling will help get your business back in business?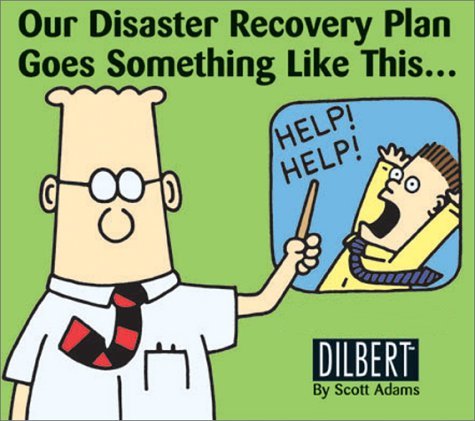 President Obama pledges full Federal resources to aid Irene clean-up and recovery. What does that mean to your business? Can you wait for Federal funds? At the bottom of this FEMA Blog post you'll find a list of State Emergency Management Agency contacts -- Websites, Facebook and Twitter information.
If you're in clean-up mode and trying to get your mechanical systems back online, you can rent portable air conditioners to dry out flooded office areas to prevent mold and provide cool, comfortable air for the work environment. During Hurricane Ivan clean-up in Florida, Susan Carleton of Pointe South Realty said,
"What a great product! You saved our house from mold and our furniture from mildew! In a time of desperation, your thoughtfulness and effort to help us is so much appreciated. We now have power at the office and home – a lot of work remains, but it is worth it. Thank you."
The best road to recovery is to have a Disaster Recovery Plan BEFORE the disaster stirkes so you'll know what to do in the aftermath. Here three useful resources to help you draft your Disaster Recovery Plan:
Download a 25 page Disaster Recovery Plan put together by TechTarget.