As many of you know, there is never an "off" season for air conditioning. No longer just a luxury, air conditioning is critical for businesses year round and air conditioning and spot cooler rental is a large part of our business.
Here's an update on what we do to develop the air conditioning rental industry and support intersts and concerns that impact all rental companies.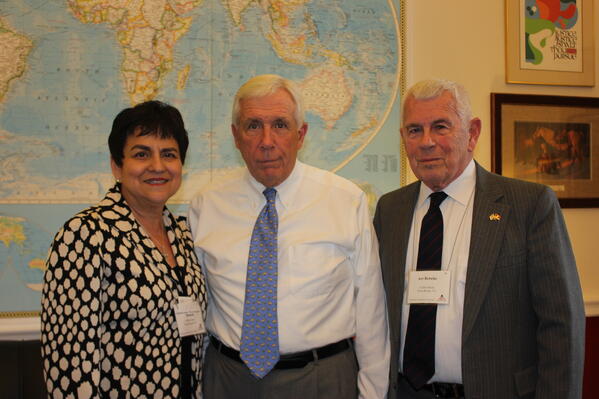 Arthur Behnke and Genevieve Ackermann joined colleagues from the equipment rental industry and American Rental Association (ARA) on Capitol Hill on March 27 – 29 to meet with their elected representatives and staff in the U.S. Senate and House on high priority issues within the equipment rental industry. They were able to personally meet with Representatives Frank Wolf, 10th District and Bob Goodlatte, 6th District, as well as the Legislative Assistants from the offices of Representatives Eric Cantor, 7th District; James Moran, 8th District; Scott Rigell, 2nd District, and Rob Wittman, 1st District.
ARA's annual legislative Caucus brought together more than 85 ARA members from 36 states for an intense and successful advocacy session. ARA members, comprised of rental business owners from throughout the United States held meetings on Capitol Hill about key industry issues including the Surface Transportation Reauthorization Bill, repeal of the Health Insurance Tax (HIT) and Tax Reform.
The Caucus program included remarks from the Administration, Congressional Staff Members and coalition partners of ARA, which provided attendees updates on these key issues prior to visiting Capitol Hill.
"These sessions ARA members have with their Representatives and Senators in Washington, D.C. are essential to communicate how public policy decisions impact business, employees and communities." Said Christine Wehrman, ARA CEO and executive vice president. "This one-on-one grassroots approach is the most effective voice of our industry."
The American Rental Association (www.ARARental.org) is an international trade association for the owners of equipment rental businesses and the manufacturers and suppliers of construction/industrial, general tool, and party/event rental equipment. ARA members, which include more than 7,500 rental businesses and over 900 manufacturers and suppliers, are located in every U.S. state, the District of Columbia, Guam, Puerto Rico, the Virgin Islands, every Canadian province, and more than 30 countries worldwide. Entering its sixth decade of operation, ARA is the source for information, advocacy and business development tools, education and training, networking and market-place opportunities for the rental equipment industry throughout the world. The equipment rental industry supports more than 350,000 jobs throughout the entire U.S. economy, and the industry's revenue is the U.S. is approximately $30 billion annually.