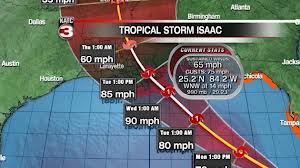 Hurricane season "officially" started June 1st and Isaac is here just in time for the Reblican National Convention. FEMA is preparing New Orleans for possible hurricane-strength Isaac and the folks in Tampa will be dealing with a rain event.
If you are in the path of the hurricane, simple precautions now will get your business back in business quickly once the storm has passed. FEMA has a video that provides great resources for preparing an emergency kit and actionable checklists you can use for before, during and after the hurricane to minimize your downtime and help with restoration and rebuilding.
Don't forget about your air conditioner! It's important to protect air conditioners from storm damage so they will be operational once the storm passes. Find out how to protect an air conditioner in a hurricane.
Portable spot coolers are invaluable for emergency cooling and can help keep you in business. If you own spot coolers, make sure they are ready to use. Be sure you have the condenser air discharge duct and are prepared for condensate removal. Renting spot coolers is an option but in a hurricane, it might be tricky to find them.
Above all, remember that material items can be replaced. Personal safety takes priority over everything else. Stay safe and click or call if we can help with your air conditioning emergency.