Have you ever been through a hurricane? It doesn't matter how many personal accounts you read about in the papers or see on TV -- living through one is an experience you'll never forget.
Before the storm
In anticipation of the evacuation order which comes from local authorities, home and business owners start securing their property. Imagine the sky is robin-egg blue and you are told the storm of the century is on it's way. Hard to be motivated, right? The more you do to prepare ahead of time, the better off you'll be once the storm has passed. Here are tips for preparing for a hurricane where you'll find:
- Tips for preparing an emergency kit
- Checklists for what to do before, during and after a hurricane
- Tips on protecting your air conditioner during a hurricane
Let's think about this for a minute. Tens of thousands of people evacuate the immediate area and have to rely on the generosity of friends and family who can take them in for a few days. But most of these folks will look for hotels that are as close as possible to their home or business so they can return to their property to begin the restoration work.
At the same time, you have thousands of first responders and utility crews from outside the area that are contracted to help with the storm damage so residents and businesses are back online and functioning with power, water and shelter.
After the storm
But what about once the storm has passed? What happens then? The first responders have already mobilized but the work continues to salvage and restore damaged homes and businesses. The work often continues for weeks, months, even years. The workers need a place to sleep and eat and they can't count on area hotels for lodging.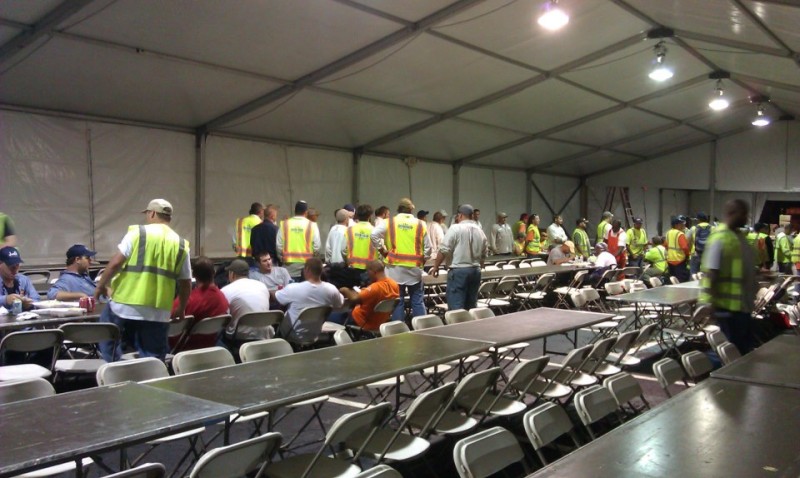 Scott Woodruff from Event Central wrote an informative account about the coordinated preperation and response efforts for hurricane Isaac (photo from Event Central's article.) Bet you never knew many special event companies also rent disaster relief tents for emergency response! The pictures tell the story of the 1000s of unsung heros who leave their own families and travel into the storm zone to help with restoration and rebuilding efforts. So even if you don't care to read the article, take a look at the pictures that tell the story of the emergency response efforts.
Disaster relief tents are set up and used for many purposes -- to provide temporary shelter for storm victims, relief workers and mobile command centers for disaster relief response teams. Many of these tents will require emergency air conditioners to provide comfortable living conditions. Hurricanes often occurr in the hot humid climates so living in 100 temperatures with high humidity can be brutal. Thankfully these temporary "villages" can be set up quickly to provide temporary shelter, power, water and yes... even emergency air conditioning!
So next time you hear about a hurricane warning, you'll know that before the weather worsens, emergency crews are gearing up and mobilizing to provide support for the storm victims.