Having a beach wedding and reception is something that many couples dream about -- at least the bride-to-be!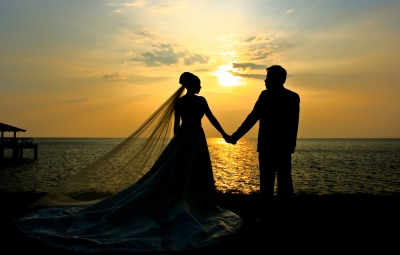 Their dreams often include visions of resplendent sunsets and the sounds of crashing waves. What they seem to forget about is the sweat factor. No, we're not talking about nervous grooms sweating it out on the sand or runaway brides leaving the scene minutes before the nuptials. We're talking about the sun, heat and humidity!
Depending on the time of year, air temperatures and humidity levels can be overbearing and the tropical breezes are balmy. Not the most comfortable climate for you and your guests! You want your wedding to be memorable for the right reasons; not because it was a hot mess of a day!
Here are 3 tips for keeping your big day sweat free:
Aisle Runners and Boardwalks
For starters, you may want to consider investing in an aisle runner or wooden boardwalk. They will help keep your bridal party and guests' feet off of the hot sand. If you don't go with a platform or an aisle runner, at least consider providing sand shoes. That way, your guests are less apt to end up with burns on their tootsies. Hey, that's actually a great idea for a wedding favor -- custom flip flops!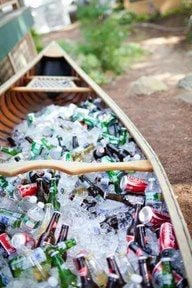 Ice and Refreshments
Another great way to help keep your wedding guests cool is to provide plenty of non-alcoholic refreshments and ice. And adding a keg of ice-cold beer will also help keep things cool! Love this boat cooler idea!
If you are having your beach wedding ceremony and reception catered, ask your event planner to take care of it for you. And if you want to be environmentally responsible, you may also want to consider giving each of your guests customized water bottles as a wedding favor. Doing so will serve as a souvenir of your special day and help keep them hydrated and cool!
Tent and Portable Air Conditioners
Renting a tent will also go a long way in making your beach wedding the coolest place in town, especially if you add tent air conditioners. That's where AirPac stands sand dunes above the rest. We have a variety of self-contained, quiet running, portable air conditioners for rent or purchase. To find out which one would be ideal for your special event cooling needs, contact us for a complimentary consultation.