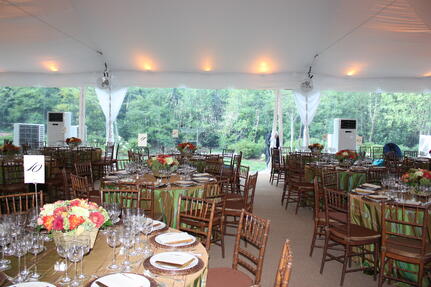 I know, I know, the headline makes it sounds like we're going to try to convince you that you need outdoor event tent air conditioning year round. Don't worry, we're not advocating running air conditioners in the cold winter months. But, there are valid reasons to consider air conditioning during the shoulder-season months -- the spring and fall months.
Here are some reasons why you might want to consider event tent air conditioning for the other three seasons of the year.
Unseasonable weather - Nothing puts the kibosh on a high traffic event like 90+ degree weather in the middle of April or May.
Greenhouse effect - Even on balmy 70 to 80 degree days, a tent can heat up pretty quickly, especially with hundreds of sweaty bodies milling around inside. The humidity and moisture adds to the "ick" factor and can make a beautiful event uncomfortable and memorable for all the WRONG reasons.
Food safety - Do you really want to worry about spoilage and possibly ill guests? Many special events have elaborate food displays that make the food more appealing and add the WOW factor. Buffets and ornate serving displays can be problematic in warmer temperatures. Be sure your refrigerated foods are served at the proper temperature and not left to spoil in a warm event tent!
Flowers and other living decorations - According to Teleflora.com, flowers prefer temperatures between 65 and 72 degrees Fahrenheit. Unless all your decorative foliage is tropical, if it's too warm inside the tent, your decorations could be over before the party is!
You can talk to your tent or air conditioning rental professional about what type of tent air conditioning system will work best for your event. Gone are the days when tent cooling meant a bulky air handler at one end of the tent blowing all the air in from one end. You have many options for controlling the climate -- and ultimately comfort -- in the tent. Temporary air conditioners come in many different sizes and configurations to match the size of your tent and the physical constraints of the event venue. Multiple units can be placed at different spots along the tent to keep your event uniformly cool and conditioned.
When planning your next tented event, be sure to consider all the potential variables and consult an air conditioning rental professional who specializes in event and entertainment cooling to decide whether tent air conditioning is right for you and which tent cooling method is best for your event.