For many regions of the US, it's that time of year again. Shoulder season. The few weeks between summer and fall and then again between winter and spring when you're not quite sure if you need air conditioning or heating. And sometimes you have a freaky two-season day where you need heat in the morning and air conditioning in the afternoon!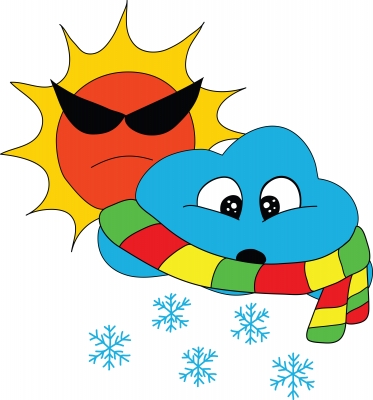 Shorts or Sweaters?
I remember Halloween outings when I didn't know exactly how to dress the kids -- it could be down right hot or a bundle up kind of autumn evening. That's costume hell for a mom, let me tell you!
And the same thing happens when Easter rolls around. You never quite know if you'll need to put the kids in their snow suits or sun dresses for the Easter egg hunt and Sunday service!
Event Planning Limbo
So imagine how difficult it must be to plan for an outdoor special event during shoulder season. what happens when you have an outdoor wedding or corporate event during shoulder season?
The event planning often starts months in advance of the big date. The venue is reserved and then the service vendors need to be selected. You've got to make sure you have contracts in place with the tent rental company, caterer, and company that rents portable air conditioners and heaters for outdoor events.
It's one thing to pick a theme, color scheme, menu and other items months in advance but how do you know what the weather will be like during the shoulder season two-season time of year?
Will you have a hotter-than-Haiti's October and need to rent air conditioners?
Or maybe you'll end up with the March snow and need to rent heaters to fend off frostbite.
What the heck do you do if you have a day long event and you have a two-season day and need BOTH -- heaters in the morning and air conditioning in the afternoon?
Planning is Paramount
Of course, you can always choose to do nothing and pray that Mother Nature looks favorably upon you during your special event. There's nothing better than an outdoor venue with a cloudless, 72 degree humidity-free day!
Assuming you want to plan for comfort and safety, you'll have two options available to comfort condition an outdoor special event tent.
Rent air conditioners AND heaters. You may not end up using both but you'll want to talk to a rental company about your options. It's impossible to predict the weather months in advance when most of these vendors are secured. Ask for a quote and find out what their terms are for finalizing equipment selection. If your event spans an entire day, or several, you may even need to consider having both air conditioners AND heaters in the tent for the shoulder season type of day.

Rent units that do double duty -- cool AND heat. There are some portable heat pumps available that will stand up to the two-season demands of cooling AND heating. Whether you need cooling or heating -- in the morning or afternoon -- you'll be comfy with a portable heat pump. You don't have to worry about getting one estimate for renting air conditioners and another for renting heaters and then waiting for the 5-day forecast just prior to the event to finalize whether you'll need to rent air conditioners or heaters. Makes me crazy just writing about it! A portable heat pump, like AirPac's GERO unit, does BOTH cooling AND heating from the same unit. A simple solution for shoulder season special events!
So often special events are planned for the transitions time between seasons when the weather can be mild and you hit the jackpot with the idyllic blue-sky, no humidity day. And IF everything works out perfectly, no climate control equipment is needed. But a little planning can go a long way to guarantee the comfort and safety of guests. Download your free guide to air conditioning (and even heating) special event tents. After all, there are no "do-overs" for special events and no one ever said they planned too much!