It sounds crazy but renting portable air conditioning during the colder months is not out of the ordinary.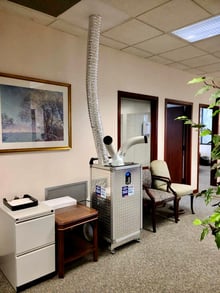 Between three season days, large glass windows, electronics, employees, and customers coming in and out, the temperature inside a commercial space can fluctuate fast. With highs sometimes in the 60s and lows dipping into the 20s, does it matter if the AC goes out?
Yes, it does!
Air conditioning not only cools but dehumidifies the air. Heat does, too. If neither are working, it can start to feel very clammy and damp.
With cold nights and pleasant, sunny days, your commercial space might not stay so pleasant without AC, especially if you have large windows like most stores and restaurants. Heat escapes out of windows very easily during the night but then the temperature rises during the day with the sun. The heat can become stifling and lowers productivity for employees and makes customers uncomfortable.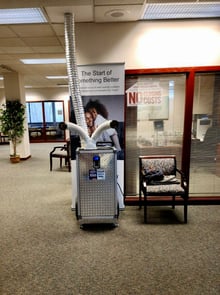 It's a temperature rollercoaster and you want to get off! AirPac is your solution for temporary AC and heat for your commercial space, whether you are looking for some supplemental HVAC or you are waiting to get yours fixed.
If you've tried to have any work done on your home or your office recently, you know that repair men and construction workers are very busy currently. Many people are using this time to do some improvements, both residential and commercial. Social distancing and capacity limits have made room for renovations and updates. Don't let a long wait time for an HVAC repair cause you, your employees, and customers discomfort or worse, downtime.
Contact us at AirPac and we'll analyze your commercial space cooling and heating needs and provide you with a fast, effective, and safe solution.