For most of the country, the first few weeks of 2021 have been cold, snowy ones. Whether you blame a groundhog for seeing his shadow on February 2nd, or you're counting the days on the calendar, spring is not exactly "just around the corner."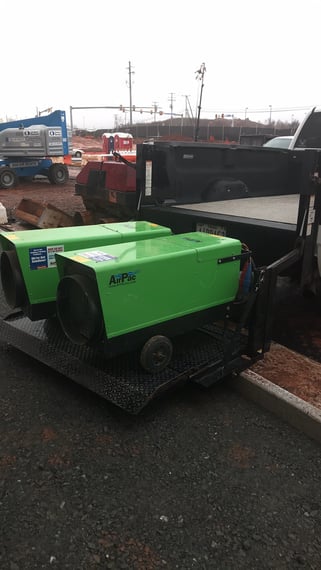 When you're working in construction, the cold weather doesn't always mean you have to take a break from the job. Unfortunately, your workers have deadlines to hit, and so the work must continue, no matter how cold it gets outside. Even so, your guys certainly deserve a break, don't they? Why not invest in electric heaters for your construction sites as a way to ensure that they're able to keep on working?
Our electric heaters will provide your construction teams with the heat they need to get their jobs completed. Let's face it. When it's too cold for your construction workers, they have to take more breaks because they need to warm up a little bit. It's dangerous for them to keep on working when they can't feel their fingers and toes. There comes a point when it doesn't matter how many layers they wear, they're still going to freeze when the temperatures get cold enough. Check out our blog post on Cold Stress for more health-related information on providing your workers with a warm-up area.
When you provide your guys with outdoor electric heaters, they won't have to worry about piling on the layers, which can interfere with their performance as well. They won't need to take as many breaks, and you'll get the recognition and praise from your clients when you're able to complete the work on time...or even ahead of schedule!
In the construction business, your reputation is everything. We're not saying that our electric heaters are going to help you build and maintain a stellar reputation, but they can sure help a lot!
If you'd like more information about how we can help your construction teams get through the rest of the winter, we'd love to talk with you. Simply contact us, and we'll take it from there.