The bar is one of the most anticipated parts of an event, especially at a wedding reception. Aesthetically, it can be an anchor in the space along with the head table, dance floor, and band or DJ booth. Socially, it serves as a place for guests to meet and mingle with each other. Of course, we think every event should have a traditional bar with alcohol options but adding an additional station with a non-alcoholic beverage or food is a great way to showcase some of your likes and personality.
1. Mashed Potato Bar
Mashed potatoes is a crowd pleaser across all ages and food palettes. Have toppings like bacon, chives, cheeses, and sour cream!
2. Bruschetta Bar
A great summer option! Offer a few different spreads along with the traditional tomato topping like pesto, herbed goat cheese, olive tapenade, or cream cheese and smoked salmon. The choices of spreads and toppings are endless with this one!
3. Chicken Wing Bar
Do you or your fiancé love getting together with friends for the game? This is a great way to show that side of your personality! Have a wing bar with different sauces and seasonings to choose from, from tropical Hawaiian sauce to lemon pepper seasoning to spicy buffalo.
4. Taco or Nacho Bar
Is taco Tuesday something you celebrate as a couple? This bar idea would also make for a yummy rehearsal dinner. Flour or corn tortillas with a choice of meat or vegetable and all the taco toppings you can think of! Tacos are for every day, not just Tuesdays.
5. Ice Cream Sundae Bar
Satisfy your sweet tooth with this bar option. Have a variety of ice cream flavors with fun mix-ins like hot fudge, caramel sauce, gummy bears, marshmallows, fruit, nuts, sprinkles, and candies.
6. Hot Chocolate Bar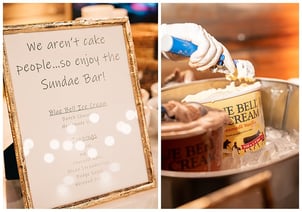 For the chillier months, nothing is more fun than a hot chocolate bar. Provide a choice of regular or dark hot chocolate with all the toppings like marshmallows, whipped cream, peppermint pieces, chocolate shavings, coconut flakes, straw cookies, and cinnamon sticks.
We hope you find these ideas helpful and they get you thinking outside the box on ways to show your personality at your big event. Don't forget to keep your guests comfortable with climate control from us at AirPac! Whether it's a winter barn wedding or a summer tented event, we can keep you and your guests comfortable.