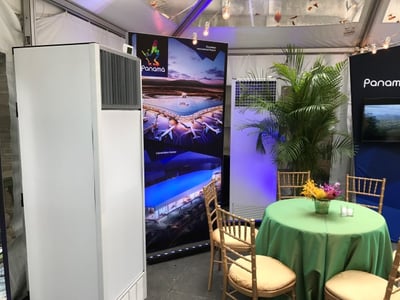 It's time to come clean and spill the beans. We're going to divulge the dirty little secrets about the tent air conditioning industry.The stuff no one else is talking about.
You see, the rental equipment industry is growing and the demand for air conditioning special event tents for weddings, corporate functions, retreats and other private parties has grown each year. Event planners and experiential marketers are always looking for the next "best thing" to WOW their clients and create magical experiences for attendees.
And what happens when an industry G R O W S ? Yup. More companies jump into it wanting to get a piece of the action. You certainly can't blame them. With the downturn in the economy the last several years, companies had to refocus and rebrand their products and services to reach their target markets just to stay in business. We've all been there.
So here are 4 dirty little secrets about the tent air conditioning industry.
1. Companies may recommend equipment they HAVE and not what you NEED
Much of the increase in the general equipment rental industry can be attributed to the fact corporations didn't want to spend capital funds to purchase equipment. So rather than go in debt or limp along, they rented what they needed, when they needed it. Pretty smart and resourceful, don't you think?
Not the same can be said for the tent air conditioner rentals. People usually don't purchase the tent air conditioners, they rent them as needed for events. Some folks may say the increase in tent air conditioner rental is due to "global warming" but we're NOT opening that can of worms. Some argue that we're just a comfort-spoiled nation that considers air conditioning a necessity rather than a luxury.
There are a lot of construction type air conditioners in the rental inventories. If you need 36 tons of air conditioning don't settle for a 50-ton unit -- that's a lot of wasted power or generator fuel which translates into MONEY!
2. The air conditioner that just came off a construction site may end up at your black-tie event
Gross. Have you seen an active construction site? Temporary air conditioners are often rented to the construction industry for use on projects during the build out phase before the central air conditioning system can be turned on. Usually when they are finishing dry wall, painting and installing wood floors, moldings and cabinets. Directing the cold, dehumidified air where it is needed will keep the project on track and the finish work won't be affected by high temperatures and humidity.
You do NOT want an air conditioner that has been used at a construction site delivered to your elegant event. If you are not renting from a company that specializes in special event cooling, be sure they have a general rental division and a party division. There is a difference in the condition of the equipment!
3. Many equipment rental companies JUST rent equipment -- be sure you stress the SERVICE you expect
Most of the time an equipment rental company gets a call for air conditioners the customer knows what they need and arranges for delivery. The rental company delivers the air conditioners to the job site and gets the delivery ticket signed off and they head back to the warehouse. They're done. The installation of the equipment is often the responsibility of the client or the people who installed the tent.
What happens if the air conditioners don't quite fit into the sidewall of the tent?
Who is going to connect the air conditioners to the power source or the generator?
And what IF there is a problem with one of the units during your event?
There are no do-overs with special events. Make sure turn-key service is part of the rental contract you sign.
4. There is more than one method -- and equipment type -- for air conditioning special event tents
Not all tent air conditioners are created equal. Not only are there different SIZES but there are different types. Choosing the right tent air conditioning method can get confusing! Once you discuss your event type, tent, venue and other details with the air conditioning rental company they should be able to recommend the best air conditioning method for your special event.
Now that we've shared some of the secrets of the tent air conditioning industry we hope you'll be better prepared when you need to rent air conditioners for that special event. Questions? Just click or call and we'll be glad to help or point you in the right direction if we can't offer an air conditioning solution that will delight you.