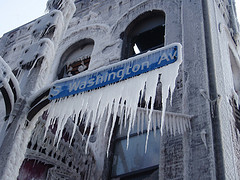 In many parts of North America it's freezing in February so who would need AC Rentals? Glad you asked!
Facility/Building Managers
I honestly don't know how they get through the day. Try blending the responsibilities of a Boy Scout den leader with a firefighter. Every issue is a crisis and the Facility Manager is often dealing with a bunch of demanding, unappreciative tenants. Hurts, but you know it's true! OK, maybe not the "unappreciative" part.

The winter months are a great time to perform planned PM Service on mechanical systems. This may require temporary cooling for a commercial tenant, retail space or restaurant or a hospital facility. Many Interior spaces with high heat concentration require air conditioning and ventilation year round, regardless of the temps outside!
IT Managers and Data Center Managers
H E A T is a nasty four-letter word for IT Managers and those responsible for mission-critical data management. Computer and electronic equipment produce the same amount of heat regardless of the season. What once was a border-line cool LAN room during the summer months when the central AC was on, can turn into a sauna when the central heat pours into the room.
Supplemental Spot Coolers are perfect for small server rooms. Whether you need back-up cooling when the main system requires service or supplemental cooling during peak hours, Spot Coolers are cost-effective and efficient.
Need cooling in a hurry? Check out 10 Tips for quick emergency spot cooling here. Be prepared before you call for emergency air conditioning.
We're here to help. Please call or click for help determining how much cooling you need. We'll gladly prepare a quote for your review or provide rental rates.
How do you solve your cold weather cooling problems? Comment here and let me know.