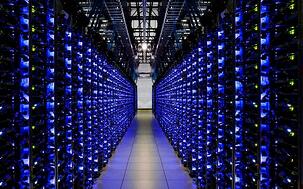 Every data center manager is concerned with data center cooling costs. Especially since in an average data center, 30 - 40% of the electricity is consumed by the cooling system!

Now you can see the exclusive video that takes you behind the scenes at one of Google's data centers in Lenoir, NC. This exclusive video report by CBS This Morning shows never-seen-before footage of everything from the physical security of the compound to the hardware configuration and the data center cooling! Honestly, the National Security Agency could probably take lessons from Google regarding security and controlled access. This joint is SECURE!
Even more impressive are the measures Google has taken to be a responsible energy consumer. The video shows just how UNCOOL Google's Data Center really is.
Don't get me wrong, they're got all the computing power they need to serve up search requests by the zillions. Google's Infrastructure Czar, Urs Holzle, reveals the ONE change he implemented that has saved over $1,000,000,000.
Yes, you read that right, 1 BILLION DOLLARS in the history of Google!
So what is it, you ask? What's the big secret?
Google raised the temperature in the data center from a chilly 68 degrees to a balmy 80 degrees.
At the data center in Lenoir, NC, 90% of the energy consumption goes directly to power the servers. That leaves only 10% of the power consumption for data center cooling!
Now THAT's COOL!

In an effort to share their energy success, Google will put video and pictures of all data centers on their web site. You can take a virtual walk through Google data center. Looks like a pretty cool place to work with fussball tables and what appears to be a refrigerated keg tap!
One thing is clear -- Google seems to have it all under control with Holzle at the data center helm. Wonder how their practices compare with the new ASHRAE guidelines for data center cooling? Of course, if they ever need emergency cooling in any of their data centers, we'd be happy to help with spot cooling rentals.
Most data centers don't compare to Google's state-of-the-art computing center. When you need emergency data center or server room cooling, just click or call.
Photo Credit: Google