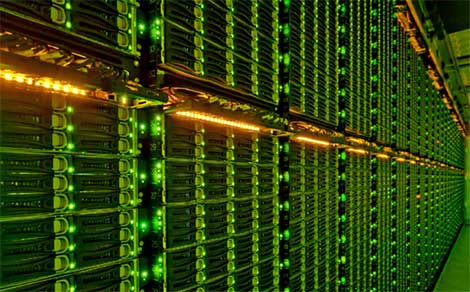 As temperatures rise, it's a good time to talk about the importance of server room and data center cooling. The dangers of excessive heat on electronics cannot be overstated. An improperly maintained climate in a server room can result in loss of important data, loss of business due to time off-line and out of contact, and shortened lifespan of equipment. Bad news!
Recently, Microsoft taught us all an important lesson about the need to keep it cool when excessive heat in a data center wreaked havoc. An uncontrolled heat spike caused outages in both Hotmail and Outlook.com. Email service and Skydrive cloud storage were down and out for up to 16 hours as they scrambled to repair the breakdown. We don't want this to happen to you.
Server room and data center cooling can be tricky. A server room or computer room needs to be cooler than the rest of the office space. The site's primary central air system may be able to maintain the appropriate temperature; however this may require keeping work space uncomfortably chilly for employees and visitors. Also, running the whole system to meet the demands of the server room wastes energy and is expensive.
Traditionally, a precision or split cooling system can help meet data center cooling needs. When installed properly and functioning in its prime, these systems can keep data equipment cool and maintain a comfortable work space while minimizing energy consumption. However, equipment installation can be involved and expensive. Air handling equipment may take up too much space both inside the critical space and outside the building. Depending on the parameters of an office lease agreement and/or on structural limitations of the building itself, a precision or split system may not be an option.
AirPac offers an affordable and reliable solution for data center cooling: portable air conditioners and spot coolers.
Although portable systems are excellent temporary solutions in an emergency, many are learning these compact mobile spot cooling systems can be dependable permanent solutions.
Consider these benefits of a portable or spot cooling system for your server room or data center:
Installation is quick and easy.

If your business moves, so does your cooling system.

Units are small and take up little room in crowded data centers.

A spot cooler can be moved to tackle fluctuating hot spots.

Because these systems are designed to be portable, they are designed for durability and could last every bit as long as a built-in system.

They are affordable.
Interested in learning more about keeping your data center cool? With just a phone call, AirPac can quickly assess the cooling needs of your space to determine the best solution. Contact AirPac – we make it our business to keep your business cool.