With Memorial Day and Fourth of July celebrations right around the corner, it is important to keep your guests cool and comfortable even when it's scorching hot outside. Whether it's an office party you're planning or a large family cookout you are hosting, one of the most important parts of any successful party is the comfort of your guests. You can have the best food and entertainment available and if the heat is too much to handle, that is what many will remember!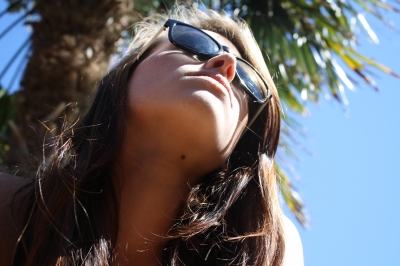 Here's an infographic that shows many cost effective ways to cool a tent without using tent air conditioning. But you can take the sizzle out of summer holiday celebrations with special event cooling from an air conditioning rental expert.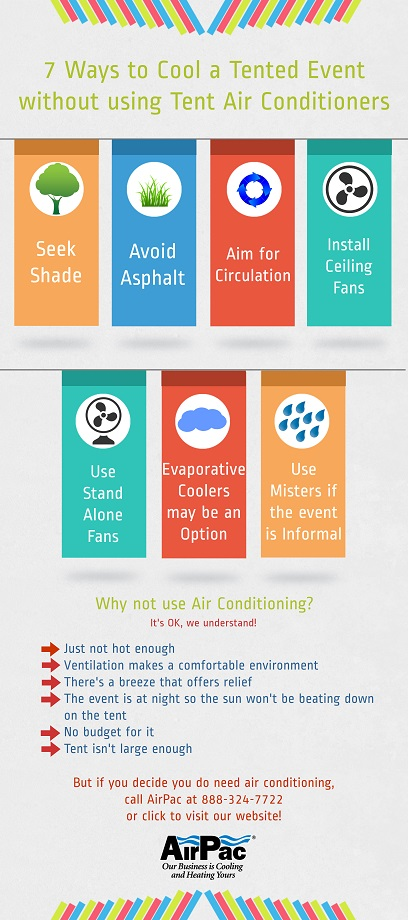 The perfect summer holiday party can be a nightmare when it's too hot. Your guests may not enjoy themselves and may end up leaving early, which is exactly what you don't want to happen when you're trying to entertain! Even tents and sheltered venues out of the sun's heat can still get quite hot inside which is likely to make guests complain. With an outdoor air conditioning unit, everyone can stay comfortable and enjoy the party.
From the guests enjoying your get-together to the people doing the cooking behind a hot grill or fryer; portable air conditioning is perfect for making a great party, even better! Not only does it keep your guests cooler but it helps keep the food displays fresh and safe to eat. Your drinks won't get watered down and your cooled foods will stay chilled, which also keeps your party goers from eating spoiled food.
Once you decide to use air conditioners for your event, be sure to talk with an air conditioning rental expert to help figure out how much cooling you will need for the tent and which tent air conditioning method is best for your event. You'll want to make sure cabinet design of the air conditioner fits in with the tent or structure and it won't take too long to set up and get running. You'll want to get the cool air flowing and begin lowering the temperature so the inside is set up before your guests arrive so that the tent or structure is already cooling off, giving your guests a feeling of comfort as soon as they enter.
Special event planners and venue managers often turn to us to evaluate their cooling needs so they get the right amount of cool air and the method that will work best with the physical constraints of the venue. We offer fixed rental rates and our quotes include delivery and set up costs so there are no unforeseen surprises on the day of the event.
If you have a party or event coming up and need a special event cooling solution, contact us. You've got nothing to lose. If we can't offer a solution, we'll be glad to refer you to a company in your area.