With rescheduled weddings, intimate elopements, and small celebrations taking place this fall and winter, we wanted to let you know that your outdoor event can still be comfortable, even without the summer date. Temperatures may be cooling off around the country with cool days and chilly nights, but with our electric heater rentals, it's never too cold for a great tent or barn event.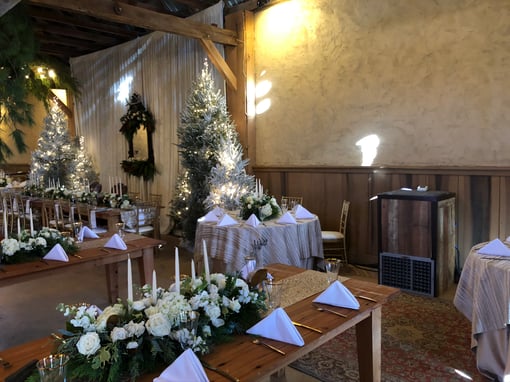 Many spring and summer couples have had to postpone their ceremonies for fall and winter dates due to the Coronavirus pandemic. As if planning one wedding isn't stressful enough, now these couples have to plan a whole new event. Fall and winter weddings have their own set of challenges. The humidity of the summer gives way for dry autumn breezes and cold, arctic winter gusts. The summer heat disappears and freezing temperatures take their place. Couples had the goal to keep guests cool, the cake standing, and the flowers looking fresh and not wilted from heat. Suddenly, many 2020 couples have found themselves wondering how to keep a barn bearable on a brumal winter evening.
Whether you need to heat a tent on an autumnal evening or a barn on a blustery winter night, AirPac has portable heaters for your event. Our heaters are electric so they are safe to use in barns and tents as there is no propane or dangerous fumes. Their compact size and sleek design make them hard to find against your décor. Our certified technicians are knowledgeable, experienced, and ready to help you if you have any questions.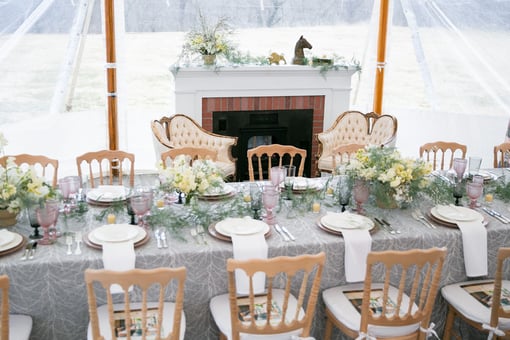 If you really want to add some cozy vibes, AirPac has an electric fireplace heater that not only looks the part but gives off heat as well. No firewood chopping required!
This opens up a world of awesome event opportunities year round! Have a dreamy winter wedding under the stars without freezing out your guests. Wow your co-workers with an outdoor, socially distanced holiday party in a space normally reserved for fair-weather soirees. Whatever your idea, whatever, your occasion, and whatever your venue, we're ready to help!
Our portable, easy-to-use heaters will create toasty gathering spots at your tent or barn event and warm the space evenly and safely. Contact us and one of our event heating specialists will get back to you and make sure you get exactly what you need for your big day!
Top photo: A cozy, holiday wedding at the Barn at York Hill.
Bottom photo: A crisp, early spring event at Goodstone Inn, by Krysta Norman Photography.