As more companies return to in-person offices, comfort, safety, and employee health is paramount and needs to be taken seriously. Loss of HVAC and improper filtration and circulation of air is the nightmare scenario for any facilities manager or small business owner now more than ever. Whether it's caused by flood, lightning strike, energy spike or "origin still unknown," the failure of an HVAC system can wreak havoc on the productivity of your office, the safety of your data, and the morale of your staff. What can you do if such a disaster strikes your building or business? We suggest you start with an emergency air conditioner rental.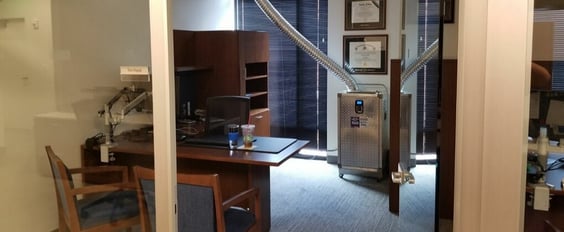 We specialize in portable air conditioning systems because we recognize the value of speed and flexibility in responding to emergency situations. With a variety of sizes, configurations and capacities to choose from, we will evaluate your situation and provide you with an optimal solution with a single phone call. Our air conditioners, designed and manufactured in the USA, can be quickly deployed to any city in the country. Free standing, portable machines are swift and easy to set up and operate, allowing maximum flexibility in cooling rooms from any particular angle or within any tight space.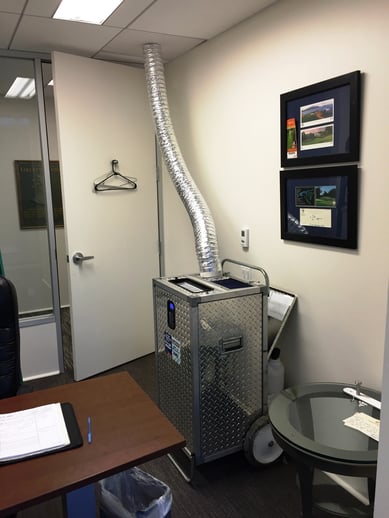 We have a few more suggestions when contacting us, or any vendor, to arrange for renting emergency air conditioners.
Remember to include reception areas and conference rooms, not just office spaces, when outlining your needs for cooling.
Remember that you need to cool your machines as well as your employees, so don't forget server rooms, and mechanical back rooms that house the large motors that run your elevators and other infrastructure components.
Remember to include any subleased areas, such as a café or store operating on your premises.
Keep in mind that your need for emergency cooling support may not end with the restoration of your HVAC system. Depending on the source and extent of the damage, you may find that your office is facing months of restoration, rebuilding or renovation work, during which there may be intermittent need for air conditioning in the space being renovated, or in the entire complex as the renovation work proceeds.
Finally, while we usually like to know a pickup date, we understand that delays happen in facility management, especially during such unprecedented times. We make it easy to extend a rental so you don't have to stress about a gap in your rental until the HVAC system is back in operation.
So if you are facing the nightmare scenario of a full HVAC outage or would like to have a plan in place in case one occurs, contact us today to arrange for the rental of some of our portable air conditioning units.